MVH GmbH presents an innovative solution in the energy field:
P.O.I.mobile – intelligent mobile LED luminaires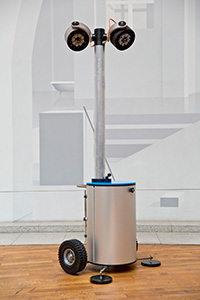 P.O.I. mobile stands for "mobile point of illumination" – a luminaire programme using LED technology, fed from modern storage batteries. An optimum combination of electronics and storage battery charging know-how form the basis of this first joint project in a series of innovative projects of the cooperation partners MVH GmbH and SE. ES UG. In this product development a high energy efficiency was the primary objective. As an innovative and creative company we orientate ourselves to and participate in sustainable technology developments.
Our experience and the know-how, acquired over many years, in the area of "Mechanical building elements for and in buildings" bundled with the expert knowledge of SE.ES in the field of lighting technology form the optimum basis for the development of such products.
Researchers see in luminous diode technology particularly for mobile lighting a powerful profitability argument in order on the one hand to find a way out of constantly rising electricity costs, since year by year luminaires consume many thousands of euros and, on the other hand, to achieve improved operability. The stock of conventional luminaires is, in total, technically fully obsolete; every third luminaire, especially for the lighting of temporary construction sites, is more than twenty years old. The lamps used do in fact have a high luminous efficacy, but are environmentally harmful because of their power consumption and the associated CO2 emission which is even additionally increased by the use of diesel-powered generators. Moreover, a lot of weight has to be transported: for temporary use for the illumination of events this is a handicap.
In this interesting market segment there was a need for action. In the area of lighting major changes are forthcoming and it is necessary to make use of them: LEDs are, as regards energy efficiency, design possibilities, service life and maintenance requirements, far superior to the conventional lamps.
With this technology our P.O.I mobile luminaire system will also lead to a marked reduction of the operating costs for the event or construction site lighting. In the case of the operating costs, savings of up to more than 60 percent can be achieved – and that with the same light output without cabling and without diesel.
P.O.I. is more than just light: economy and ecology – all from one source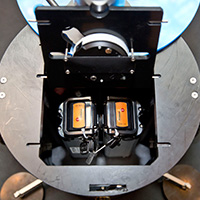 The P.O.I. light sources are fed from a high-performance storage battery and work extremely economically with this energy. That is not only gentle on the environment, but also goes easy on the budget. The long service life of a maximum of 100,000 hours is extraordinary. As compared with conventional sodium lamps the P.O.I. mobile lamps provide a service life that is many times longer. P.O.I. systems can be used independently of otherwise usual infrastructural measures. In order above all to be able to illuminate non-developed areas without involved and expensive installation of electric cables, the autonomous energy supply is used via lithium storage batteries.
As an innovative and creative company we orientate ourselves according to sustainable technology developments. The joint venture with the partner SE.ES makes us a competence centre for special holistic solutions. All of the planned cooperation projects are also under the influence of global climate change and the necessity to reduce CO2 emissions. For this the efficiency of the power supply and of energy storage are to be significantly improved. That is our contribution to the preservation of our environment for the following generations.