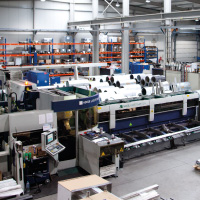 Since it was founded MVH GmbH has developed into a valued partner for industrial outsourcing.
On a production area of more than 5,000 m² ultra-modern sheet metal working equipment is located, including CNC laser machines, punching machines, presses and welding units.
With highly motivated employees and a constantly growing degree of automation MVH GmbH is the first address for sheet metal working not only far beyond the Main-Kinzig and Rhine-Main Region, but also world-wide.

MVH brochure as PDF
Welding technology
Certified welding specialists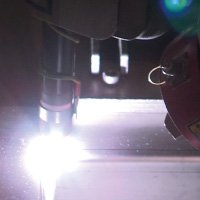 If load-bearing steel components are to be connected inseparably with one another, the welded joints are decisive for quality and functional reliability. MVH guarantees this with its many years of experience, ultra-modern technology and proven employee competence. We are certified for all welding work for the production of load-bearing steel components. Depending on which materials are to be inseparably connected to one another, we use the MAG, MIG or TIG welding techniques. For joining of thin and coated materials MIG soldering is used in a variety of ways. Moreover we offer other joining techniques such as bonding or riveting. The bonding technique allows efficient and hence inexpensive production and makes it possible to integrate additional characteristics into the component.
Welding robot C 60 5000 N
With this unit MVH consistently continues along the road to technical innovation. Equipped with hybrid laser arc system and tactile sensors the welding robot produces complex components with lots of seams in large quantities quickly, precisely and with consistently high quality. The compact unit from the company Cloos, the specialist for welding units and welding robotics, works according to the MIG, MAG and the tandem welding processes, but is also capable of MIG soldering, TIG, plasma and plasma transfer arc welding processes.
Complex components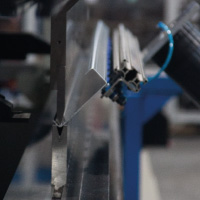 Folding and bending
No matter whether freely bending, folding or 3-point bending of solid steel plates or thin metal sheets is involved, at MVH there are various high-tech bending machines available. Among others there are Weinbrenner bending machines for work pieces with a thickness of up to 6 mm and up to twice 4.65 metres and/or 9.30 metres in length. A folding machine re-shapes up to 8-metre long steel plates. Lengths of up to 4 metres are processed in the three-point-bending process by a machine from Hämmerle. For precision and small parts a machine stands ready that processes work pieces with a length of up to 3 metres.
Precision work with large quantities: BendMaster TruBend 5320
The TruBend 5320 performs high-precision work also with large quantities and unwieldy parts. With a folding length of up to 4.42 m and a pressing force of 320 metric tons it is the biggest bending machine of the 5000 TruBend series from Trumpf. Besides the high pressing force it guarantees with its 4-cylinder technology double precision by means of homogeneous pressure distribution over the entire clamping bar length. The bending machine processes plates and sheets of nearly every complexity and geometry. Thanks to "automatically controlled bending" (ACB) the plates/sheets are given their correct shape from the first part on. Hence inconvenient downtimes are reduced and no rejects are produced during production start-up. The secret of ACB is up to eight angular-position measuring systems that monitor the work piece. In the event of tolerance variances the machine automatically re-bends the work piece.
Optimum solutions

The world's most productive punching machine: TruPunch 5000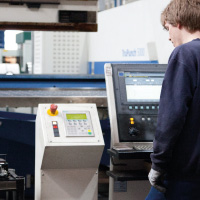 Designed for work pieces up to a size of 1500 x 3000 millimetres it is the acceleration values that make the TruPunch 5000 so effective The x-axis accelerates at twice the acceleration of gravity to a maximum speed of 100 m/min. A further special feature is the gantry drive of the y-axis: two separate motors are synchronously controlled without mechanical connection and hence ensure high accelerations and precision. The TruPunch 5000 punches with a stroke sequence of 1220 strokes/min.
Besides punch processing, with the TruPunch 5000 parts with threads and lugs can also be manufactured. Even the deburring of work pieces is not a problem with this machine. Due to the freely rotatable punching head all of the tools can be used flexibly. For tool changing the punching die, scraper and die plate are monitored by sensors in order to ensure process reliability. All of the tools can, at 330 rpm, be brought into any position. The TruPunch 5000 takes 2.8 seconds to change tools. In the case of MultiTool the time required is even only 0.3 seconds.
Laser technology
Laser machining
We machine plates and sheets in formats up to 4000x2000 mm, steels up to 25 mm, aluminium up to 12 mm and stainless steel up to 15 mm thick. For this purpose flat bed, pipe and punch laser machines are in readiness. A laser/punching combination processes work pieces up to 9000 x 2000 mm.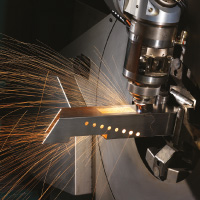 Precise, fast and effective – pipe machining done by MVH
Precise cuts for complex joints, effective use of material and maximum flexibility – this is how in a few words the outstanding characteristics of the pipe laser machine LT 8 can be described. It permits performances beyond classic plate/sheet machining. No matter whether in the automotive or furniture industry – the structures in plate and metal construction demand, besides the greatest precision, also effectiveness. In particular, with large quantities the material consumption is always an economically significant factor.
Thanks to an efficient automatic loading device and a one-off unloading solution the productivity of the LT 8 is unparalleled. In addition, it works almost loss-free due to an intelligent material handling system. The pipe laser machine processes pipes from 12 to 220 mm and rods with a weight of up to 35 kg/m.


No matter which cross-section – maximum quality and precision are guaranteed. The tilting machining head with 3D-tilting axes cuts with optimum material utilisation variably and fast open profiled sections as well as special cross-sections with concave and convex geometries or complex connecting profiles. A flexible cutting head that is equipped with tilting axes (3D) makes possible, among other things, the processing of welding bevels. That makes it easier for subsequent processing steps, such as chucking and welding of pipes with medium or large cross-sections like U-profiles and angles.